When we develop an app through the android operating system, it is called an android app. As per stats, active Android users are more than 2.5 billion across 190 countries, naturally showing their popularity. Given such popularity, Make an Android app for your business will help you reach more customers, increase sales, and build better relationships with them.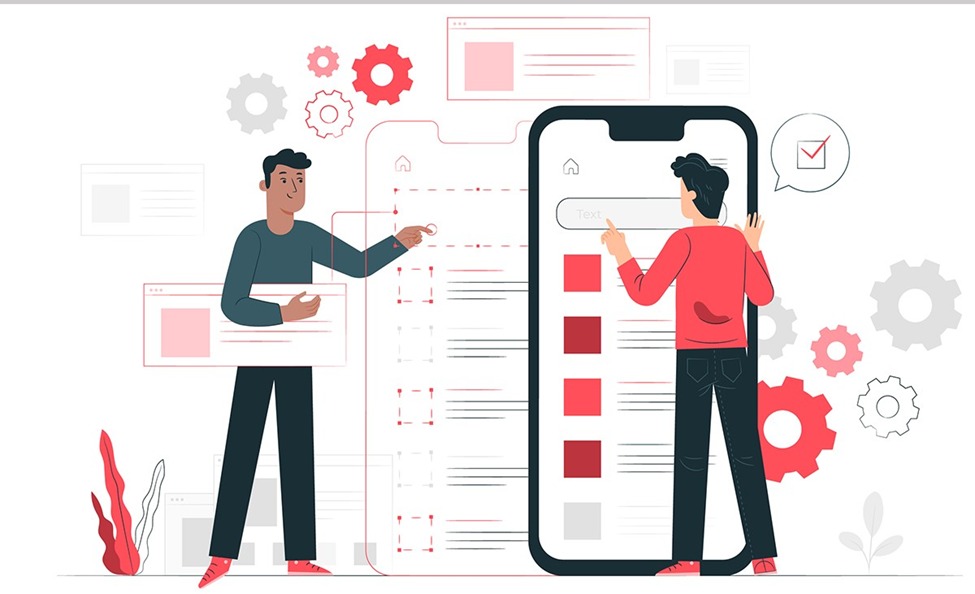 Source: https://blog.sagipl.com/
Let's see in detail how to make an android app can be beneficial for your business:
Link with Customer
Android Business App will link the customer to the brand by sending direct notifications of new schemes, launches of products, festival wishes, and offers. Through this medium, any organization can stay connected with its customers all the time.
Robust 24×7 services
Customers can easily shop through the app anytime without going to stores, so there will be no reason for no cash flow in business any time of the day.
Interaction with the customer
In case of a query, customers can message, mail, chat, or request a call. Every solution is instant with the android app; there is no wasting of time or upsetting clients because of late answers or long routes to reach each other.
Bond with customers
By providing accessible connecting services, brands already bond with customers. Including offers, discounts of festive seasons, and other occasions and notifying the customers about it make them check the app in one click before moving to any other app.
Some people, however, prefer to run their business in traditional ways or small ventures, wavering to put their money on app development. The main reason for this hesitation is the complexity of android app development. While a non-programmer can hire a developer for the task, this process is time-consuming and expensive, so instead of seeing their benefit, the owner tends to see the app-making process as a hurdle.
Whether you are a startup, small business, or entrepreneur, gone are the days for you to hesitate creating android apps just because of zero knowledge of coding.
There are several no-code platforms where you can create an app without coding.
Below are the steps to create a super easy no-code app:
Provide basic info
Building an app starts with signing up to the platform then start filling in basic information at instructed space:
URL link of the website
Business for which the app is created
Choose the website platform
Personalize
Once the app is ready, one can personalize the features by clicking on the app name and start exploring the different features that make a unique application for their brand.
Preview & Instant Changes
The best part of this no-code platform is that it offers a preview of the app. If some features do not fit as per your expectation, they can be changed instantly and previewed again.
Publish the app
After settling with changes, users can publish the app by clicking the "production" button, and the app will be released on google play and apple app stores.
Twinr is one such no-code platform that lets you create an app within 24 hours.
Major features which can enhance your business app
Push Notification
By giving push alerts to customers about the newest promotions, coupons, discounts, and other deals, owners can raise app traffic and conversions.
Form Builder
Ventures can use the Form Builder feature to quickly design an inquiry form, an appointment form, or a personalized form and collect user requests. Forms also allow help in gathering data and storing it in your app without switching between apps.
App Statistics
App Statistics give entrepreneurs significant insight into consumer behaviors, allowing them to make required adjustments based on their customers' interests and improve their experience.
Contact
The Contact feature displays office address, company email, phone number, and other information. It assures app users about business credibility, and they can contact companies in case of immediate attention.
App Sheet
The App Sheet functionality allows app developers to easily incorporate Google Sheets into their apps, permitting users to control files quickly and easily.
Feedback
With this feature, the owner can quickly collect feedback from clients about their business's products and services. This data will highlight what is working or lacking in business and the scope of improvement.
Why is Twinr the best platform to convert a website into an app?
Twinr provides unrivaled benefits such as no-code app development, no development costs, no cloud fees. Most importantly, it offers a plethora of designs that save your time and make the process faster and easier.
Below are some of the exclusive features that we offer to users:
Cart integration
It helps customers to add their items in one space.
Configure app & websites
The app can be easily controlled by the website.
Preview
It also offers preview features; meaning users can see how app features will look on the device and make changes accordingly.
Customize Splash screen
Users can create striking splash screens to attract customers.
Fast Delivery
With Twinr, the app will be ready in a few minutes to publish.
Edit App-Only
If the user does not want to change the website, by inserting javascript and CSS, only the app will be edited
Platform agnostic
Twinr works for any mobile-friendly and responsive website.
Who can use Twinr?
Twinr is not limited to a few segments of society; we support each size, shape & scope of ventures. Whoever wants to make an app for their business, our free no-code platform offers full support.
Startup
Startups are generally short on time, money, and resources. It is hard for them to invest money in application development. But Twinr offers them a chance to put life into their idea without expending money in the initial days. They can make their app and rework it as long as they want; once the app is perfect and the fund is raised, they can publish it on the Android/iOS platform by paying as per the chosen plan.
Small & Medium Scale Business
Budget constraints and limited resources are SMB's big problems. It does not imply that they do not require digital assistance or can afford to ignore it.
It means SMBs should focus on cost-effective solutions, and our no coding platform is an appropriate answer to their limitation. Here, they can design their advanced app to boost their business and compete with the big players in their industry.
Entrepreneurs
Sometimes, entrepreneurs have an app idea, but they do not have the resources to execute them. People who want to convert their app idea into reality can consider Twinr to fulfill their dream. The best part is neither it will be a tediously long process nor expensive.
Enterprises
The requirements of a big business are distinct. Twinr can handle all of the intrinsic needs of an enterprise business app, whether it's data security, cloud computing, or after-sale service.
Eventually, irrespective of who you are, what type of business you do, on what scale you operate, Twinr offers the best platform for you to build apps. Start your app-building journey today and contact us with any questions
Previous Article